What's Happening  with PRO SCUBA CENTER
May
Due to the the current circumstances, all of our scheduled activities for May are on hold. This includes our scheduled Public Safety Diver courses at Halifax Community College. As always our primary concern is your safety, health and well being. Once we can reasonably assure your safety we will resume all of our dives, classes, parties and good times with gusto! Till then, don't forget we are still here for you! Please do not hestitate to call us, text 

(252-985-3951) or email (proscubanc@gmail.com), if you have questions

or just want to hear a familiar voice. Stay safe, stay healthy and keep a postitive attitude!
AND WHEN THIS IS ALL OVER, REMEMBER TO: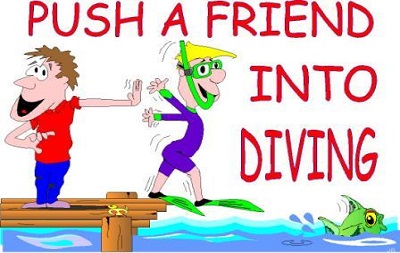 and get REWARDED!
When your friends register for our Open Water Diver class have them list you as the person who referred them and earn a PSC $50 Gift card. That's right, if you are listed as the referring diver on your friend's student folder we will reward you with a PSC $50 Gift Card when they complete their certification with Pro Scuba Center. How great is that! Getting a reward for something that you wanted to do anyway! (Offer does not apply to college classes)